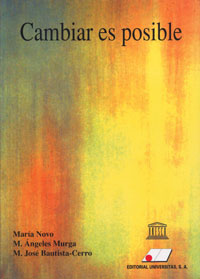 Título: Cambiar es posible.
(Change is possible)
Autores: María Novo, M. Ángeles Murga,
M. José Bautista Cerro
Editorial: Universitas, con el patrocinio de
la UNESCO.
Año publicación: 2001

Sinopsis:

This book is the result of an research directed by Dra. Novo in her post as a Unesco Consultant, to identify innovative experiences in the area of environment, environmental education and sustainable development, in a global scale. Another two authors took part in this work.

The text compiles a lot of experiences , offering the most relevant data about them (aims, description of the activities…) as well as the data that permits getting into contact which its designers and managers.